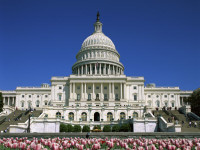 Following the Great Recession and collapse of input/commodity prices of the past few years, virtually everyone in the agricultural market is asking the same question — when will normal return, if ever? In an attempt to answer this question, the Mid America CropLife Association invited several economic and agricultural experts to its annual meeting in Bloomington, MN, for some insights.
The association's acting president for 2010/11, David Flakne, senior state government relations manager for Syngenta Crop Protection, laid out just how complicated this question has become since the crash of 2008. "Is $7 corn and 300 bushels per acre the new normal?" asked Flakne. "And what about social media? How will this fit into our world? Finally, what about the new EPA regulations on our industry, which seem to be on steroids in what's being proposed?"
First up to try and tackle some of these questions was Dr. Michael Swanson, agricultural economist and consultant for Wells Fargo & Co. Swanson pointed out that today's agricultural market is in as good a place as its ever seen. "I think it's pretty unanimous right now — people are very enthused and energized about agriculture," said Swanson. "The amount of revenue today in the marketplace has literally tripled in the past three to four years."
As for what's driving this growth, there are two interconnecting factors. The first is how world markets have started buying U.S. crops and kept doing so despite higher prices, particularly China. "I don't think we've appreciated how much this has impacted agricultural economic growth," said Swanson. "And as China's population changes its diet to include more protein intake, the demand for feed grain has been on a steady climb."
The second factor is the U.S. policy regarding biofuels, with a heavy emphasis on corn use to produce ethanol. "With the federal mandate on the blend requirement for cars, the markets have decided that corn and ethanol prices are completely locked," he said. "This has brought a lot of speculators into the marketplace, which has kept prices fairly high."
What Goes Up …
So given this current rosy outlook, what could possible go wrong? That, said Swanson, is a very good question.
"I guarantee you — anything this good is not going to last forever," he said. "What pushed us up into this stratosphere of good fortune is going to be the single biggest risk for us. And I think that the people that are buying inputs have not yet come to the right conclusion on how to manage this risk."
Part of this risk comes from the fact that today's agricultural marketplace is heavily tied to what occurs in the general economy and overseas markets. "For example, if China had a couple of down years in a row and stopped buying from products, commodity prices and exports would probably collapse," said Swanson.
The same uncertainty goes for biofuels. "Five years ago, ethanol policy was golden in Washington, DC," said Swanson. "Today, it's under attack. As a country, you can't keep spending $1.5 trillion more than you take in every year forever. This means that, perhaps, the current biofuels policy is subject to being reversed."
To prepare for this possible reversal of fortunes, Swanson had a few suggestions for ag managers. "One, manage what you can," he said. "If you don't want to manage risk, you will need more working capital on hand to survive a downturn."
He also suggested that agricultural operators not assume credit can be obtained at a moment's notice, despite today's low interest rates. "Lending availability is an illusion," said Swanson. "I don't care how low interest rates are. Once banks decide they don't trust anybody, there will be no money available, period."
Another bright spot for agriculture is the performance of exports. According to Tim Emslie, commodity research analyst for Country Hedging Subsidiary of CHS Inc., U.S. ag exports topped $115 billion in 2010 and are on track to hit $150 billion in 2011, up 30%.
"What's going on here?" said Emslie. "In a word, China. The country has a policy in place right now to grow its Gross Domestic Product using exports as a key component."
The Tech Beat
On the spread of technology, Dave King, Associate Provost for outreach and engagement at Oregon State University, offered an example on how quickly it's become a global concern.
"Recently, I had a chance to visit with a group of people living in a mountain village 8,000 feet up located in central China," said King. "The residents of this village grow corn, wheat and potatoes, half of which they eat themselves and the other half they use as currency to trade for goods from neighboring villages. One night, the village leader leaned over to me and said: 'I have only one question for you. When will we be get the Internet here?'
Inquiring why Internet access was important to the village, the leader explained to King that some of the corn its farmers were growing that year wasn't doing very well. "If we had the Internet, we could have done some research and maybe gotten a better variety of seed corn to plant instead of what we ended up with," he said.
Of course, when it comes to newer technology seeing rapid adoption, nothing comes close to smartphones. According to King, approximately 35% of U.S. adults own a smartphone.
"Three to five years from now, smartphones will be the primary way people connect with the Internet," he predicted.