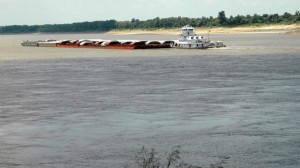 Water levels on the Mississippi River may drop to historic lows next month in the Midwest, delaying barges carrying everything from grains and coal to steel and petroleum, after the worst U.S. drought in 56 years. According to Bloomberg News, the waterway, may be too shallow to navigate by December 10 from St. Louis south about 180 miles to Cairo, IL, where the Mississippi meets the Ohio River, the American Waterways Operators and Waterways Council Inc. said.
The drought that dried out farmland from Ohio to Nebraska is expected to persist at least through February in most areas and spread to Texas, according to the U.S. Climate Prediction Center in College Park, Maryland. Barges on the Mississippi handle about 60% of grain exports that enter the Gulf of Mexico through New Orleans. The U.S. is the world's largest shipper of corn, wheat and soybeans.
"The Mississippi River is especially critical for the agricultural community," George Foster, the president of JB Marine Service Inc. in St. Louis, said. "Closure of the Mississippi next month would mean that about 300 million bushels of agricultural product worth $2.3 billion will be delayed reaching its destination."
The number of barges moving south on the Mississippi fell to 660 in the week ended October 10, down from 691 a year earlier, data from the U.S. Army Corp of Engineers show. A total of 488 barges moved north, down 26 percent from a year earlier.