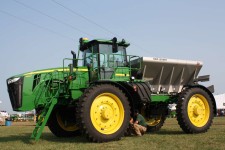 At any given Midwest AG Industries Exposition (MAGIE), there are many products that get attendees talking. Phrases such as "you've got to see this" or "I loved driving that" are frequently heard at many of the booths that dot the fairgrounds in Bloomington, IL. Yet, each year, one product rises above all the others in terms of show buzz, foot traffic, test drives or all of the above. For the past four years, this product has been honored for this achievement with the ShowStopper Award, jointly sponsored by CropLife IRON and the Illinois Fertilizer & Chemical Association.
At the 2011 MAGIE event, the winner of this ultimate prize was the 4940 sprayer from John Deere. "I'm happy to be able to accept this award on behalf of John Deere," said Craig Weynand, general sales manager – Ag CBD for the company. "We come up with these new products based upon the feedback of our customers, and this is reflected in all the new features we have in the 4940 sprayer here at the show."
MAGIE attendees talked about many of these extras when test driving the various 4940s on the show's ride-and-drive area or looking at the display models at the John Deere exhibit booth. These included the unit's 120-foot boom with 11 independent sections for added application control, the 340 hp PowerTech Plus turbocharged engine and LoadCommand feature for loading the 4940's 1,200-gallon product tank in as few as three minutes.
Other features of the 4940 include 50 inches of crop clearance, a 300 cubic-foot drybox spreader and JDLink service free for one year.