From drift control agents and oils to surfactants and water conditioners, adjuvants can help farmers use less herbicides, improve weed control and operate more cost-effective crop protection programs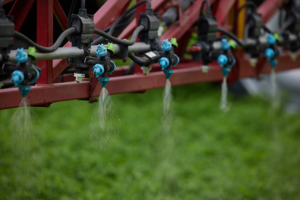 The word in crop talk circles is the herbicide shortage will continue in 2022 because of continued kinks in the supply chain and a shortage of glyphosate and glufosinate. Higher herbicide prices could also be in order. While farmers are getting concerned about their weed-control options, ag retailers can help calm their nerves by suggesting they use high-quality adjuvants as part of their spray programs.
"Our team at WinField® United can help retailers and farmers find the right herbicide solution because of our current product supply position and strong agronomic expertise," said Andy
Braunshausen, vice president of crop protection marketing for WinField United.
To help retailers manage crop protection supply issues, WinField United has been working closer than ever with customers and manufacturers to get end-to-end forecasts that allow the company to stay ahead of potential supply issues. This is made possible through its investment in digital tools, systems and capabilities that enable seamless communication throughout the supply chain, from the lab to the field.
"Retailers can help farmers mitigate their financial risk by recommending residual herbicides paired with the right adjuvants," Braunshausen says. "Using full rates of herbicides with quality
adjuvants improves leaf coverage and herbicide efficacy to make their constrained supplies go further."
WinField United, an Arden Hills, Minn. based agriculture solutions company and a brand of Land O'Lakes Inc., offers more than 60 adjuvants to enhance every crop protection application, from drift control agents and oils to surfactants and water conditioners. Its products include InterLock®, a drift control agent that has been a mainstay in the marketplace for more than 20 years; Destiny® HC, an oil that features the company's CornSorb® technology to enhance herbicide uptake; Preference®, a surfactant that improves coverage and efficacy; and Class Act® NG, an ammonium sulfate-based water conditioner that improves herbicide penetration into weed-leaf cuticles.
Benefits by the Numbers
"Adjuvants aren't just an answer to the herbicide supply shortage, however. Choosing the right adjuvant can mean the difference between 50% and 90% weed control," Braunshausen stresses. "Getting an application right the first time with residual herbicides and the right adjuvants is crucial to reduce crop/weed competition, decrease the weed species present and narrow weed size distribution to improve control and optimize yields," he adds.
Braunshausen says WinField United has the data to prove its adjuvants will perform as advertised, so ag retailers can recommend the right solution to fit their customers' needs. He also says the company offers expansive technical know-how based on that data.
"Selecting the right crop protection products is one thing, but maximizing efficacy is another. Our insights and proprietary spray data from lab and field tests ensure applications hit their target," Braunshausen says.
Tackling Problems, Finding Solutions
Much of that data is gathered at the WinField United Innovation Center, a 55,000-foot state-of-the-art facility located in River Falls, Wisc. It's there where agronomists, chemists and agriculture technology specialists focus on product discovery and enhancement, including the testing and development of adjuvants as well as seed care, plant nutrition and crop protection products. Braunshausen says testing at the Innovation Center tackles real problems farmers face in the field and finds solutions to advance spray application technology.
"We've done the research to help maximize weed control and enhance yield potential when using our adjuvants," Braunshausen says. "Why is that important? The label tells you only so much. We have control over the ingredients, all the way through handling and formulation."
Braunshausen has seen firsthand how challenges are addressed and solutions are found. Recently, scientists at the Innovation Center discovered that layering DRAs and DRTs significantly improved drift reduction with dicamba applications. That insight is the basis of the newest adjuvant, UltraLock®, which combines a DRA with industry-leading InterLock to provide superior drift reduction this season.
WinField United research goes well beyond product development to target matters like selecting and calibrating sprayer nozzles. This helps ensure consistent coverage across the entire spray boom and, ultimately, the entire field.
"While this may sound simple, there are many nozzle types and sizes available with little information about which one is best for which application, so selection can get overwhelming," Braunshausen says. "In short, you want to ensure applications are landing where they're supposed to land and doing what they're supposed to do once they get there."
Pushing Forward
As the crop input supply chain continues to face mounting challenges, Braunshausen says WinField United has the infrastructure in place to manage risks along with the agronomic aptitude to adapt to changing conditions.
"Experimentation at the center is all about finding the best practice, product or recommendation," he adds. "We realize that not every idea will be a winner, and the research capabilities at the Innovation Center are helping us fail faster so we can quickly identify the things that will help farmers succeed the most."
Braunshausen stresses that WinField United has not and will not take its foot off the gas when it comes to delivering modern adjuvant solutions. "This means our retailers have the most advanced technology available," he adds.