Even with the advent of some newer post-emergence tools, the problem is not going away.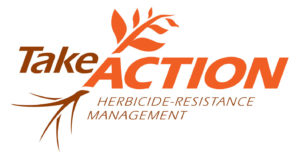 As resistance to glyphosate and other herbicides continues to develop across North America, raising grower awareness of the problem is of primary importance. With no new herbicides on the horizon with the one-size-fits-all mentality of glyphosate, it's important to preserve the tools we have. That means using them properly — at the right time, the right rate, rotating them with other herbicides with different modes of action (MOAs) and using cultural practices – many of which have not been necessary since the early 1990s.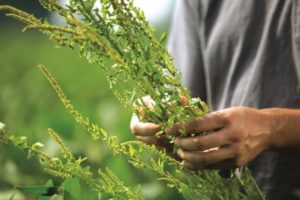 With this in mind, weed scientists from several universities partnered with the United Soybean Board to form the Take Action program to raise awareness of the problem presented by herbicide-resistant weeds. The program is a partnership between industry, crop commodity organizations, and public researchers — all are focused on finding way to help farmers recognize and manage herbicide resistance. It has grown to include farmer education on fungicide and insect resistance,as well.
Dr. Bill Johnson, Professor of Weed Science at Purdue University, was one of the founders of the Take Action program, and says the mission is a serious one.
"There's always the hope that industry will turn on the spigot and a new Roundup will show up, but that's not the case," Johnson says. "And the alternatives are harder to use and more expensive, I understand that. But the risk of not using the best management practices we are recommending is a more rapid decline in the effectiveness of the tools we are still able to use now."
Johnson says the introduction of new dicamba herbicides should not lull farmers into thinking they can put off changing their weed management strategies.
"If you're a LibertyLink or Xtend grower and you're not going to use other practices, too, the number of years you will benefit from that technology will be a lot less," he says. "By adopting strategies that help keep weeds from developing resistance to these technologies, they will be available much longer."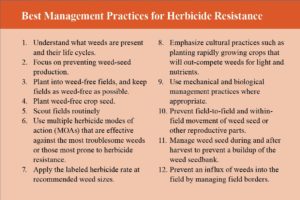 One Step Forward, One Step Back
Changing behavior is hard, especially when the new behavior involves more time and money. Johnson says researchers made some significant headway in getting growers to use residual herbicides on soybeans until prices dropped in the last few years. When the new dicamba technologies came out, adoption of other practices dropped even further, despite efforts from manufacturers, consultants and Extension weed scientists to urge growers to use an integrated approach.
"It's so easy to migrate back to a post-emergence-only strategy — if it doesn't work the first time, spray it again," Johnson says. "If it doesn't work the second time, spray it again. That's the strategy that got us in trouble. If we don't do what we can to keep the newer tools viable, we will quickly run into a situation where we don't have them anymore, and we'll be using cultivators and weeding crews."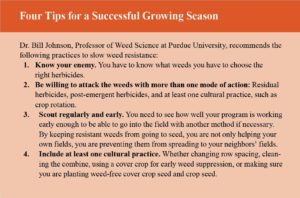 Residual Herbicides are Key
Johnson stresses that residual herbicides are key to preserving the life of post-emergent treatments. Farmers may not prefer to use them, because of occasional injury, or the need for correctly timed rainfall, but they are an essential part of an integrated weed strategy. They are an additional mode of action that can reduce the density of herbicide resistant weeds that are exposed to widely used post herbicides like glufosinate (Liberty), dicamba, and glyphosate (Roundup).
"There has been such a change in my lifetime — going from a system in the 1960s and 1970s that was heavily reliant on residual herbicides and cultivation to one that's almost totally reliant on post-emergent herbicides," Johnson says. "We also had smaller farms. In many cases our fields now are weedier than when I was a kid. It's going to be difficult to bring back some of those old tactics, but it might be the only way to prevent some farms from being overrun with weeds."
Be Part of the Solution
Many resources are available on the Take Action website, including weed management tools, a herbicide lookup tool with MOAs identified, scouting information, and the Herbicide Classification Chart and many more herbicide-resistance management resources.