In-furrow prescriptive application just got easier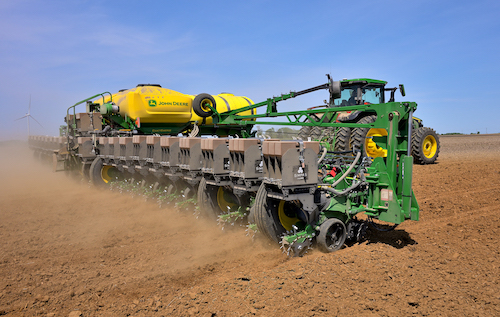 As technology evolves, so should the way you plant. Prescriptive application of crop inputs at planting delivers data-driven solutions to accommodate varying conditions across a single field to combat yield barriers and, in turn, increase profit potential.
While crop input application prescriptions are somewhat new, they are developed in much the same way as prescriptive application of fertilizer. With prescriptive application, a variety of agronomic analyses such as soil sampling and nutrient removal calculations are used to create a shapefile, which guides a unique application system to precisely and variably apply crop inputs in-furrow.
An expanding product line to meet your needs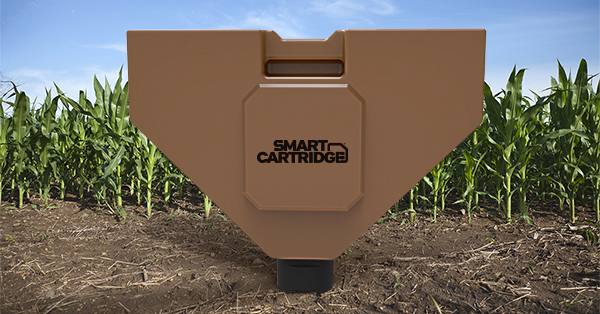 SIMPAS-applied Solutions™ (SaS) products are prescriptively applied with patented SmartCartridge® container technology to address unique agronomic needs. Multiple SaS products, such as insecticides, fungicides, nematicides and micronutrients, are delivered simultaneously, in-furrow during planting.
"AMVAC® is committed to continuously growing our line of SIMPAS-applied Solutions products to meet the needs of growers and help them increase their yields as well as profit opportunities through innovative, data-driven technology," said Jim Lappin, director, SIMPAS® Product Portfolio & Alliances. "SIMPAS-applied Solutions give growers the ability to apply exactly what's prescribed, precisely where it's needed."
As the adoption of prescriptive farming grows, the SaS in-furrow application portfolio continues to expand, with several products added over the past year.
Envita®
AMVAC collaborated with Azotic North America for its nitrogen-fixation product Envita® to be used with SmartCartridge® containers as an at-plant prescriptive solution. Envita is a naturally occurring, food-grade bacteria that allows plants to fix nitrogen (N) in multiple crops, including corn and soybeans. Applied in-furrow, it quickly establishes itself within the plant and grows with it as it grows. From within the plant's cells, Envita provides a constant, season-long supply of nitrogen exactly where and when nitrogen is needed the most to meet yield targets or where nitrogen loss is most likely to occur.
iNvigorate®
iNvigorate® was the first liquid product made available for application using the SIMPAS system on corn and soybeans. Developed by Agrinos, now an AMVAC company, iNvigorate creates a highly productive microbial community when applied to the soil, assisting in nutrient uptake, improving fertilizer efficiency and optimizing root growth.
MicroSync® IRON IDC
AMVAC and Verdesian® Life Sciences expanded their relationship to include MicroSync® IRON IDC micronutrient and ZINC micronutrient among the crop inputs available through the SIMPAS system. MicroSync IRON IDC is a granular fertilizer designed to supply increased available iron to crops, specifically with a focus on soybeans grown in areas with high pH and a history of iron deficiency chlorosis (IDC).
AMVAC continues to work with third-party manufacturers to bring even more prescriptive, at-plant inputs to market over the next few years.
Transform the way you plant with the SIMPAS application system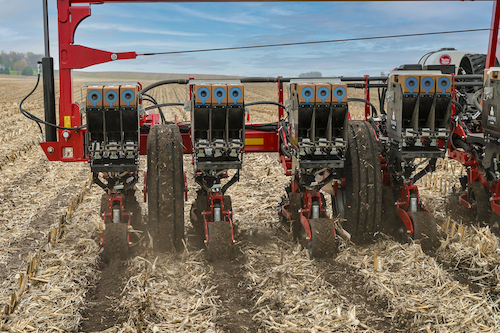 All of the above SaS products (with more to come) are applied in-furrow with intuitive SmartCartridge container technology via the SIMPAS application system. SaS target unmet agronomic needs and enable farmers to implement sub-field management practices with at-plant inputs to align with sustainability best practices.
The next evolution in precision agriculture, the SIMPAS application system allows farmers to prescriptively apply multiple products in-furrow simultaneously at planting. This approach lets farmers turn yield barriers, such as pest pressure, iron deficiency, nitrogen limitations and poor soil health, into opportunities to increase yield and profit potential.
"With SIMPAS, you pay only for as-applied acres, so you can profitably and sustainably address pressure areas that would otherwise go untreated," Lappin said. "SIMPAS supports environmental stewardship with precise product application, fewer inputs per field, reduced worker exposure and forensic-quality traceability."
The SIMPAS application system also allows farmers to:
Address untreated areas where whole field applications are not justified
Solve agronomic issues in a single at-plant pass (three products, one pass)
Increase potential for individual input savings that can be redirected
Experience convenience

RTU formulations – no carrier needed
No opening containers, mixing, or measuring
No need to run to empty; pay only for prescribed, treated acres
Closed delivery system for greater worker safety
To learn more, visit SIMPAS.com.