Driverless equipment – once a pipe dream – is here.   
The agriculture industry has been moving along the path to precision technology and automation for years. Variable rate technology (VRT), GPS-guided applications, automatic adjustable spray
systems and automated steering systems are all either a stable of grower's operations or are on the way to being one. All along, innovators at the leading edge were thinking into the future, with the goal of truly driverless equipment, which would free growers from the cab and allow them to increase productivity and efficiency. Well, that future is now, with the launch of Raven's
OMNiPOWER™ system.
OMNiPOWER isn't just a machine. It's a self-propelled power platform that turns existing equipment such as a spreader or sprayer into an autonomous machine. It's interchangeable between
multiple implements and is controlled by the operator via a tablet. OMNiPOWER can be sent on autonomous tasks without a driver in the cab.
"It's Going to be a Gamechanger." Brent Reichmuth, Vice President of Operations- Area 1 at Central Valley Ag (CVA), thinks OMNiPOWER could be a game changer. CVA, the largest locally owned cooperative in the U.S. with 64 locations and 2.6 million acres to service, recently acquired an OMNiPOWER with a dry spreader implement.
"We're looking forward to figuring out how it's going to work within our operations and how to use it most efficiently," Reichmuth says. "We need to figure out some logistical challenges, such as how to get it from field to field. We plan to work with Raven to eventually be able to operate multiple units. But it's an exciting step into the future and will open a lot of doors for us. It's going to be a gamechanger if it works the way we expect it to."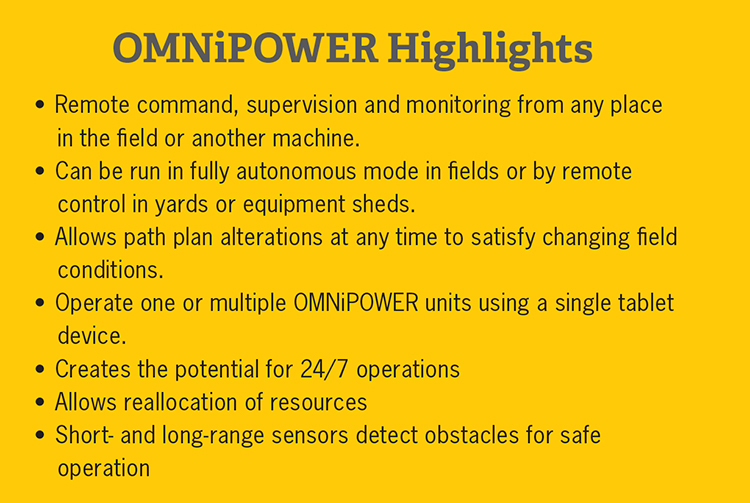 One of the challenges Reichmuth expects driverless technology to help with is the labor shortage. He says it's not just about needing one less driver, although that does fill a critical need.
"We feel like it increases the pool from which we can hire applicators," he says. "Because it's a different technology, and a cutting-edge application, it takes a different skillset than
traditional agriculture and we feel like it will attract new
talent into the industry."
Sarah Waltner, Raven Senior Director of Global Sales, says retailers know it's important to provide their customers with what they need. And while for some, driverless technology may not be an immediate need, retailers need to look ahead and prepare for the future.
"Retailers are dedicated to staying front and center of being a resource and a value add to the farmer, "Waltner says. "They want to provide for growers' current needs, and
also want customers to know they can trust their retailer to look out for what they will need in the future."
The Path to Autonomy
Not every retailer is ready for a fully autonomous machine, Waltner says. Most operations start with a lower level of automation, such as auto steering, or the VSN visual guidance technology and get comfortable with that before investing in a higher level of automation. At Raven, it's referred to as the "path to autonomy."
"It's a continuum", Waltner says. "Autonomy is exciting. But farmers and retailers are businesses that need a return on their investment. They trade dollars because it either helps get more acres covered and raises the revenue bar, or it helps with costs and the bottom line. One of those two has to be affected by the technology, or it's just going to be a neat thing that a few early adopters try."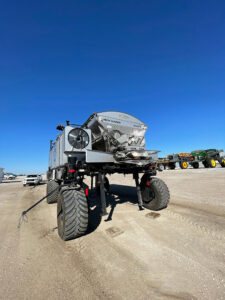 Reichmuth says innovation is built into the company's core values. "The path to autonomy for Central Valley Ag really starts with the fact that we live by five core values every day and one of those core values is constant innovation," he says. "What constant innovation means to us is we need to look at our challenges and opportunities from new angles and exercising curiosity. The shrinking labor pool along with curiosity of what autonomous means and could mean to our organization got us started down the path."
Waltner says while everyone follows their own path to autonomy based on their needs, it's important for every retailer to be looking at autonomic solutions in some way.
"This is coming," she says. "Look at what's going on in the world today. We have to grow more food. We are continually pressured to do it in a more sustainable way — a more transparent way. The grower and retailer community is already working tremendously hard. You have to insert technology for this to ultimately able to work at the end of the day. Be ready to embrace it and start
thinking abouthow it fits into your business plan at whatever level makes sense for you right now."
New Technology Requires a Trusted Partnership
Reichmuth and Waltner both say they view the relationship between CVA and Raven as a partnership, not just a seller/buyer relationship. Developing and using brand-new technology requires
both parties listening to the other's ideas and concerns, they say.
"This is a journey of adoption, so having those partners that can be on the path with you is so important," Waltner says. "We're going to have your back, you will have our back. We're going to work through this. There are going to be both benefits and challenges we didn't foresee. CVA is right on the front lines with customers, and they have done a great job of investing in and understanding what drives value for growers."
Reichmuth says he can go to Raven with pain points CVA is experiencing and ask how they can work together to address them. The collaboration provides both companies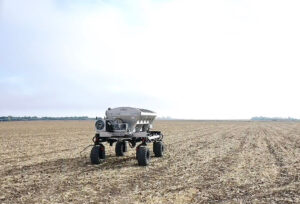 with opportunities.
"CVA is extremely excited about OMNiPOWER," Reichmuth says. "We're ready to move ahead. We see the day where there's an applicator sitting in a room running three or more of these at one
time, or an applicator driving a mechanical unit in the field with an autonomous unit in the same field.
"At the end of the day, we're a cooperative because we need to do what our customers can't do on their own. Our path to autonomy helps to ensure that we're going to be able to sustain the new technologies and the workforce we'll need to meet customers' requirements."
Learn more about the OMNiPOWER™ system here ravenprecision.com/driverless-ag/omnidrive