Ranco's MeshDCS Blend Control System gives ag retailers scalability and greater remote control over individual blender bins.
Imagine blender bins that talk. Each bin is wired to a gateway control — and, a mesh network allows retailers to remotely control individual bins. It's all interconnected, so if you set one bin next to another, they "communicate."
For agriculture professionals, a scalable, efficient wireless blend control system that can fit into a tight footprint can decrease operating costs and improve production, says Nate Wittmaack, president and COO of Ranco Fertiservice Inc., Sioux Rapids, IA. This is what retailers get from the Ranco MeshDCS Blend Control System.
"It is natively controlled via computer or a smart device, and it uses a DC drive in the blend system that is scalable. Systems can easily be added to accommodate more capacity," Wittmaack says.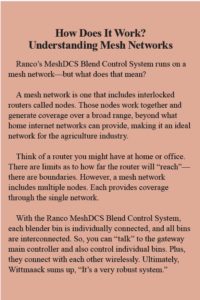 Ranco has long invested in research and development to forward product innovation, Wittmaack says. The company pioneered the use of scales in continuous blending to create Declining Weigh. "Recently, we have been focused on the next advancement in Declining Weigh technology and controls." he says.
That is the Ranco MeshDCS Blend Control System, and it addresses ag retailer's demands, Wittmaack says.
"Over the years, we have assessed what our customers need in terms of output and accuracy, and what space constraints they are dealing with, including the location of their blending systems," he says. "We have been focused on working with agriculture professionals so they can avoid the onerous task of physically wiring up bins."
Flexibility and Scalability are Key Advantages
Ranco can remotely access the system at every site to review the functionality of individual bins, sensors or load cells.
"The mesh wireless configuration in our Ranco MeshDCS Blend Control System requires significantly less field wiring than previous generations of the product," Wittmaack says. "And, the remote support capabilities that come with the system give ag retailers peace of mind that systems will run smoothly, and they can rely on us to address issues in real time. "If there is any issue, remote support is available to assess the issue and we can trouble-shoot the problem remotely," he says.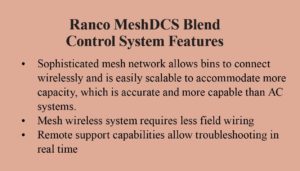 The good news is, with less wiring and a sophisticated mesh network that allows bins to interconnect wirelessly, the ease of use and overall performance of the Ranco MeshDCS Blend Control System has achieved the next generation of performance. "It is a robust system that incorporates sophisticated technology used in a range of industries, including railway," Wittmaack points out.
For ag professionals who appreciate the backup of wired technology, a wired-in failsafe can be added at a limited cost, Wittmaack says, adding that the Ranco MeshDCS Blend Control System "is the forefront of dry fertilizer blending technology."