Faster transactions, fewer errors and real-time updates are among the benefits of 100% connectivity.
Many agricultural companies are finding that using a complex legacy mix of spreadsheets, email, and paper-based records to manage the ever-increasing number of transactions coming in from multiple communication channels has become unsustainable. The cost of managing each transaction and the risk of error increases when information is exchanged in inconsistent ways.
Increasingly, the ag industry is turning toward integrated data solutions that can automate previously manual and complex processes such as customer order processing. These types of systems can streamline supply chain efficiency from beginning to end, communicating information quickly and efficiently to those that need it and eliminating redundancy and errors.
The latest tools being developed by organizations such as Proagrica provide 100% connectivity from the inital order through customer fulfillment. The savings realized from these tool are significant, and allow for a short return on investment (see box).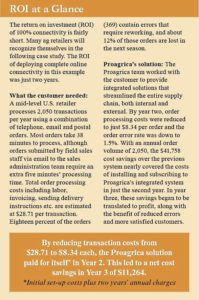 Among the key benefits of 100% connectivity are:
• Automating order processing. An order is entered just once, often by the customer via an online order portal. Orders can be updated in real time as the status changes. This eliminates errors in re-keying orders sent via email and enables transactions to be processed more quickly. Automating the order process allows resources to be redeployed in more valuable activities that can further boost efficiency and customer satisfaction.
• Responding quickly to customers. When customers order electronically they receive a much faster response. The ability to respond quickly with accurate and up-to-date information impacts customer satisfaction and therefore, retention.
• Increasing customer loyalty. By offering an efficient, quick, easy-to-use ordering option to customers, agricultural companies can extend their competitive advantage and make themselves an invaluable partner for their customers. By making doing business together as easy and pain free as possible, and allowing customers 24/7 access to the status of their orders, the customer experience can be greatly enhanced, making it more likely they will purchase from the supplier again.
Download our latest whitepaper to find out how you can get closer to 100% connectivity.