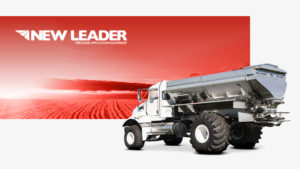 As an ag retailer, it's easy to get comfortable with your existing equipment and fall into the same practices over time. But before you think about any equipment upgrades, buyers should be aware of these common spinner spreader myths, and think about how you can improve productivity and reduce downtime in the field.
Myth 1: Broadcast spinner spreaders are not good at regulating where product is applied.  Often times it is assumed broadcast spinner spreaders don't have the accuracy and precision as other application equipment.  With New Leader's G5 16-section swath width control, operators can automatically shift the spinner assembly fore/aft and left/right to reduce overlap, decrease nutrient waste, achieve superior variable rate application, and ensure nutrients are placed only where they're needed. Learn more.
Myth 2: Broadcast spinner spreaders can't spread more than 80' wide effectively. New Leader's G5 spinner spreader allows for a spread pattern that can exceed 90' when spreading certain products. With this new technology, nutrient particles are distributed consistently and evenly resulting in an ideal flat top spread pattern. Although conditions may vary, and machine calibration should be performed, the G5 was built to have one of the most accurate, precise, and effective spread patterns in the industry. Learn more.
Myth 3: Spinner spreaders utilize less technology, which makes them less accurate in the field. You know the saying, "It's whats on the inside that counts?" Well, that applies here more than ever! Even though you can't see the technology that results in the pinpoint accuracy of New Leader's G5 spinner spreader out your window, you can trust the pattern being spread behind you. When peak spreading season hits and machines are running long hours, having equipment that's durable and user-friendly with less moving parts exposed to tough spreading conditions can make all the difference.  Learn more.
Myth 4. Spinner spreaders can only apply one product at a time. The multi-product capabilities of the G5 were designed to increase flexibility and versatility for your operation. Whether you need to spread blended products or need the ability to spread two to four nutrients independently or simultaneously, at straight or variable rates, in a single pass, this machines gives you more options to get the job done right. Increase productivity in the field by simply having more flexibility to choose your options. Learn more.
 Myth 5: Broadcast spinners aren't reliable in windy conditions. Conditions are always changing and it's important to have the ability to adapt to those conditions. When windy conditions are present, you don't have time to wait. New Leader's patented and unique spinner design prevents the lofting of nutrients and instead pierces the wind to make precise and accurate application possible in these conditions. Learn more.