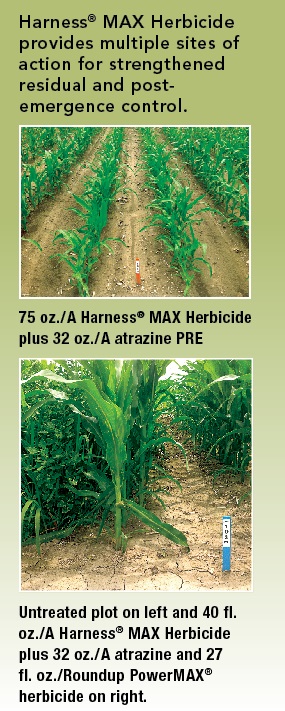 One of the pre-emergence products that provides excellent residual weed control is Harness® MAX herbicide from Monsanto, a premix herbicide new for 2018. Labeled for corn, it combines the excellent residual benefits of acetochlor with the added post-emergence and residual activity of mesotrione for a broadened range of control against problem weeds in corn. Harness MAX can be used in conventional or traited corn up to 11 inches tall and provides excellent pre-emergence control of small-seeded broadleaves and grasses as well as some post-emergence control. Harness MAX can be tank-mixed with Roundup® agricultural herbicides and applied post-emergence over glyphosate-tolerant corn or with other products such as atrazine for additional post-emergence control.
"Harness MAX is very flexible," Elmore says. "It can be used early pre-plant, at planting, or post-emergence up to 11-inch corn. It provides excellent weed control and really good crop safety. You can tank-mix it; the most common tank-mix partners are Roundup® agricultural herbicides and atrazine, but there are others if you choose to, both pre and post."
Pre-emergence application rates are generally about 75 fluid ounces per acre, depending on soil type and organic matter content, Elmore says. The post-emergence rate is 40 ounces per acre. A large number of weed species are controlled by Harness MAX, including waterhemp, Palmer amaranth, velvetleaf, common ragweed, lambsquarters, crabgrass, barnyardgrass and foxtail.