The agronomic benefits of using residual weed control are clear—and there are financial benefits as well. Growers enrolled in Roundup Ready PLUS® receive rebates when they use qualified weed control products on glyphosate-tolerant crops. When glyphosate-resistant weeds began to become a problem about 10 years ago, Monsanto launched the program to encourage growers to use multiple sites of action and residual herbicides.
To be eligible for rebates, growers need to use a glyphosate-tolerant trait with a qualifying residual herbicide and Roundup® agricultural herbicides.
"The reason for these requirements is Roundup® agricultural herbicides are still a very effective way to kill weeds," says Scott Burchette, NA Crop Protection Systems Lead at Monsanto. "With the addition of the residual, it helps keep weeds from resprouting in the field and becoming resistant."
Roundup Ready 2 Xtend® soybeans, which are both glyphosate and dicamba tolerant, are included in the program. Growers can receive additional incentives for using the additional site of action of XtendiMax® herbicide with VaporGrip® Technology, a restricted-use pesticide, along with Roundup® agricultural herbicides in their weed management programs.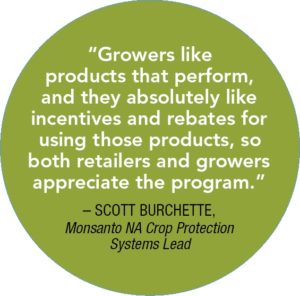 Burchette says a grower who uses XtendiMax herbicide with VaporGrip Technology in addition to a Roundup agricultural herbicide can receive $6.00 per acre more in rebates than if he used a Roundup® agricultural herbicide only.
Incentivizing Good Stewardship
"We are primarily concerned about stewardship," Burchette says. "The last thing anyone wants is to see dicamba-tolerant crops go the same direction as the glyphosate-tolerant crops in terms of development of resistance. So we offer incentives for growers using multiple sites of action even if they're not Monsanto products. In fact, there are three additional company partners included in Roundup Ready PLUS Crop Management Solutions. "Growers like products that perform, and they absolutely like incentives and rebates for using those products, so both retailers and growers appreciate the program," Burchette says.
Burchette says a grower using the Roundup Ready® Xtend Crop System in soybeans with a typical recommendation of Warrant® Herbicide plus metribuzin applied pre-emergence and followed by Warrant Herbicide post-emergence can earn up to $11.50 per acre in rebates, which is roughly 10 percent to 15 percent of the total seed and herbicide costs on that acre.
Complete herbicide recommendations and incentives can be found at RoundupReadyPLUS.com. Lists of qualifying herbicides, a tool for calculating herbicide costs using Roundup Ready PLUS incentives, and a tool for getting herbicide recommendations customized to your geographical area are also on the site. •