Ag Retailer notices better crop color and growth in spring and significant increases at harvest.
Crop nutrition programs will always focus on macro and micronutrients. But there are more subtle ways to increase plant vigor and yield, including improving soil health. Improving the structure, drainage, microbe populations, and organic matter content of the soil leads to stronger root growth and better absorption of nutrients and water.
Midwestern BioAg's TerraNu Technology delivers a complete package of essential nutrients in a carbon matrix that feeds native soil biology and enhances soil health for better nutrient uptake and improved crop performance. Every granule of TerraNu fertilizer contains approx. 35% of rapidly available carbon/organic material. The unique manufacturing process behind TerraNu Technology guarantees uniform analysis in every granule with the highest quality ingredients in the market. With TerraNu Technology you can feed your crop and feed your soil at the same time.
Robert Newton, President of Troy Elevators in Bloomfield, IA, started using TerraNu on his corn and soybean crops three years ago, and saw an dramatic yield increase in both.
"I see a big difference with using TerraNu," Newton says. "Last year was our best bean crop ever. We averaged just over 70 bu/acre. Before using TerraNu, we were getting 45 to 50 bu/acre. Our corn yields have also been phenomenal compared to other farms in our area. Last year, we had more than 200 bu/acre corn, when most people were in the 160 to 170 bu/acre range — and it was a really dry year."
An Early Strong Start Helps Plants Weather Adverse Conditions
Newton says TerraNu gets his seedlings off to an early and robust start. "We've noticed the plants come up a little quicker and stronger, and the color is much better," he says. "Last year with less water than we normally have, it didn't seem to affect the seedlings as much. And this year, with such a difficult, wet spring, we did a lot less replanting than most people did. I planted 450 acres of corn this year and replanted about 22 acres. A lot of people were replanting nearly half of their acres. I think it's because of the TerraNu that our crops came up early and took off."
While TerraNu can be used entirely on its own, Newton feels it works best by adding it to his regular fertilizer program. He acknowledges it adds to the bottom line, and that may make growers hesitate, but in the end, he says it's about the results.
"It's hard to explain to somebody with corn and bean prices the way they are today — why would you want to add more cost to your acres?" Newton says. But if you can get an extra 15 bu/acre of beans and another 40 bu/acre of corn, it's a no-brainer to me."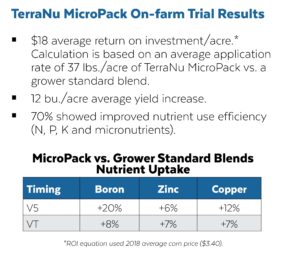 TerraNu Technology: An Easy Way to Add Carbon to Your Soil
In Newton's area of southern Iowa, the rolling hills mean most of his customers are no-till farmers. Newton says TerraNu works especially well in no-till operations, because it actually eliminates the need for a cover crop.
"It's important to get that carbon back into the soil, and that's usually done with a cover crop," Newton says. "But it's my responsibility as a retailer to take care of that cover crop in the spring, which of course adds to the farmer's bottom line. With TerraNu you get the carbon input of a cover crop without having to manage the cover crop."
Because soil temperatures don't rise as quickly in the spring in no-till operations, it's always a concern to get seedlings up and out of the ground quickly, and the boost provided by TerraNu really helps with that, says Newton.
Building Trust With Customers
Currently, Troy Elevator is the only retailer in the area that offers TerraNu, and Newton feels like that is a benefit to his business. Because he uses it on his own acres, he can speak directly to customers about the cost and return on investment.
Newton has a strong relationship with Midwestern BioAg, and when the MBA team brought TerraNu to him, he saw an opportunity to differentiate from others and was onboard right away."Adding TerraNu to our business was easy," Newton says. "It's easy to handle. We just mix it with what we already use and spread it the same way we would any other fertility product we carry. It's good knowing we can sell this to our customers knowing that every pellet we apply provides the same nutrients. It differentiates us from our competition because we can bring something unique to our customers that gives them a better nutrient package for their plants, and long-term, for their soil."
Soil Health Benefits Farmers Now and in the Future
Newton says he feels a responsibility to protect his land for future generations, and soil health is a priority for him. He feels that keeping the soil healthy and productive not only helps him, but anyone farming on the land after him.
"The dividends at the end of the season, are big, and by far exceed the investment," Newton says. "And that's our goal. Like anything in life, if you get it off to a good start, it's going to pay off. We just need to take care of our soil and of the seed when we put it into the ground. That's the best opportunity to get it to grow to its potential, and I think that's what TerraNu does for us."
Learn more at TerraNu.Info