Crops are the most valuable source of income for most farm operations. That's why you protect your livelihood by insuring your crops every year. In the event of significant crop loss due to weather, insect or disease, insurance will step in to make up for a portion of the lost income. But what can you do when you lose up to half of your applied nitrogen investment to leaching and denitrification? Does your insurance cover the lost fertilizer? Unfortunately, no. Yet, every year, depending on environmental conditions outside your control, as much as 50 percent of the nitrogen fertilizer you apply can be lost or goes unutilized. That's a lot of nutrients that could be converted into yield.
MITIGATE THE RISK
Don't lose out on the nitrogen you apply. You can fight leaching and denitrification losses with CENTURO™ nitrogen stabilizer from Koch Agronomic Services (Koch). CENTURO is a nitrification inhibitor for anhydrous ammonia and UAN that has been proven to reduce nitrate leaching potential and optimize nitrogen use efficiency — ensuring you get the most out of every pound of nitrogen you apply.
KEEP YOUR NITROGEN WHERE YOU NEED IT
Developed over the course of nine years by a team of chemists, agronomists and technology specialists from Koch, CENTURO features a patented active ingredient, Pronitridine, and is the first EPA-registered nitrification inhibitor in 40 years.
Nitrate leaching can directly impact your bottom line. If the nitrogen you apply moves beyond the root zone, your crops will miss out on the critical nutrients they need.
"A nitrification inhibitor, like CENTURO, is an important tool for protecting nitrogen and keeping the valuable nutrient available in the root zone — where you want it to be, said Dr. Greg Schwab, director of agronomy for Koch. "CENTURO helps keep the nitrogen in the ammonium form longer so more of the applied nitrogen can be used by the plant."
By slowing the conversion of ammonium to nitrate, CENTURO can hold the nitrogen in the ammonium form three times longer than without an inhibitor.1 With fall-applied anhydrous, more ammonium will be held in the soil through the spring, maximizing availability for crop uptake. And with spring- applied anhydrous, CENTURO helps minimize potential losses to leaching and denitrification from spring rains prior to crop establishment.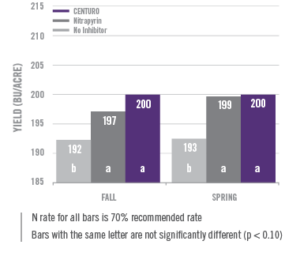 When you protect the nitrogen you apply, you maximize the nutrients available for crop uptake. In third-party trials conducted across four site locations in Nebraska, Illinois and Missouri in 2016 and 2017, CENTURO improved nitrogen use efficiency by up to 25 percent.2 During the same trials, fall-applied ammonia treated with CENTURO increased corn yield by an average of 8 bushels per acre compared to untreated fall-applied ammonia.2
CONFIDENCE IS INCLUDED
You may not be able to insure your fertilizer purchase, but with CENTURO, you can find confidence that your anhydrous ammonia and UAN investment is protected. CENTURO is the proven tool you can trust to protect your fertilizer investment and yield potential.
**********************************************
CENTURO is not registered for sale or use in all states. Contact your state pesticide regulatory agency to determine if a product is registered for sale or use in your state. 1The underlying data is based on third-party laboratory studies funded by Koch Agronomic Services; results may vary based on a number of factors, including environmental conditions. 2The underlying data was provided by University of Nebraska, University of Missouri, and the Illinois Fertilizer and Chemical Association under Research Trial Financial Support Agreements with Koch Agronomic Services, LLC. Neither the universities or institutions, nor the individual researchers referenced, endorse or recommend any product or service. Improvements in nutrient use efficiency, yield and nitrate leaching may not be observed in all cases.  CENTURO™ and the CENTURO logo are trademarks of Koch Agronomic Services, LLC. Koch and the Koch logo are trademarks of Koch Industries, Inc. © 2018 Koch Agronomic Services, LLC.