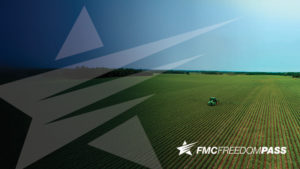 The FMC Freedom Pass program is breaking the rules of grower incentive programs by not tying crop protection purchases to any particular seed brand.
Change may be the only thing that's constant in today's ag retail landscape. Rapid consolidation and shifts in technology combined with economic pressures have a trickle-down effect at the retail and farm level. That trickle down often creates confusion and more hoops to jump through.
When FMC set out to create a different type of grower incentive program, they designed a program that would both support retailers in providing financial incentives and value to growers while keeping things simple with fewer strings attached.
Four Program Pillars
The FMC Freedom Pass program is approaching its third year. The program provides growers Agronomic Rewards, Performance Assurances, Application Innovations and Product Financing. And with "freedom" in the name, it's important to mention that incentives aren't linked to the purchase of any particular brand of seed.
This no-strings-attached approach is what Agronomic Rewards is all about and, based on FMC research, is what growers are looking for. That research has shown 80% of growers valued the ability to make seed and chemical decisions independently, and it had a "somewhat" to a "significant" influence on a decision to switch products. The program includes a selection of 30+ products so growers can make the agronomically sound decisions that works best for their operation. With a full lineup of herbicides, insecticides and fungicides, the FMC Freedom Pass program rewards growers for those decisions from preplant to harvest.
The program offers a calculator on its website so growers and retailers can calculate a potential financial incentive together, simplifying the purchase decision. Incentive payments are calculated following a retailer reporting deadline at the end of the growing season and paid by check near the end of the year. Go to: https://www.fmcfreedompass.com/agronomicrewards to calculate a potential financial incentive.
When challenging weather or an economic downturn strikes the crop business, input prices are almost always questioned. The FMC Freedom Pass program helps mitigate those risks with Performance Assurances. In the same FMC research mentioned previously, 73% of growers said Performance Assurances have "somewhat" to "significant" influence on a decision to switch products. That increase in grower confidence supports the retailer's business and customer's bottom line.
Performance Assurances are available for more than 20 herbicides, insecticides and fungicides when used on a range of crops including alfalfa, corn, soybeans, sunflowers and wheat.
Mark Stephen, owner and operator at Crossroads Farm in Judyville, Ind., takes advantage of the Product Financing pillar to start strong and pay at the end of the season. "It helps us get out there and attack what we need to do, and we can worry about settling up toward the end [of the season]," he says. With fixed 0% APR1 financing through John Deere Financial, it's simple for growers to get what they need to protect their crops throughout the season, but pay after harvest. This access to capital frees up critical cash flow often in short supply. And because retail operations get paid within 48 hours, it's a benefit for them as well. New to the program this year is financing to cover application costs for select foliar insecticides and foliar fungicides.
Even with access to the best incentives, assurances and financing, the drive of today's leading growers is to continuously innovate. Unfortunately, that desire is typically given a reality check by the price tag. The fourth component of the FMC Freedom Pass program makes innovation an economic reality. The FMC Freedom Pass program gives growers access to the 3RIVE 3D® application system at no initial cost with qualifying product purchases. This revolutionary application system and in-furrow technology leader is available only from FMC.
The FMC Freedom Pass believes more successful seasons start with more freedom in the field, and that's just what it accomplishes by providing more freedom to choose the best agronomic best practices and innovation, all while freeing up cash flow until harvest.
For more information on the FMC Freedom Pass program, visit FMCFreedomPass.com today or talk to your local FMC representative.
1 Offer valid on qualifying purchases made between October 1, 2019 to September 30, 2020. Offer limited to Multi-Use Account Agricultural customers with an available Special Terms limit. Subject to the Multi-Use Account credit agreement and approval. Fixed 0% APR from the date of purchase, which may be prior to delivery, until December 2020, when the entire transaction amount is due in full. Regular Multi-Use Account rates will apply after that date. Offer may be limited to qualifying products. $10,000 minimum purchase required. Subject to merchant participation, see your local merchant for complete details. Multi-Use Accounts are a service of John Deere Financial, f.s.b.
Always read and follow all label directions, precautions and restrictions for use. FMC, the FMC logo and 3RIVE 3D are trademarks of FMC Corporation or an affiliate. ©2019 FMC Corporation. All rights reserved. 19-FMC-1888 10/19