Get your farmers ready to sidedress. According to NOAA (National Oceanic and Atmospheric Administration), above-average precipitation is expected in May along the Corn Belt. Given this year's delays in planting and reduction in preplant fertilizer applied, you may need to be prepared to apply supplemental nitrogen via sidedress application method.
Sidedressing Successfully
While much of successful sidedressing is in the art of balancing the ability to best get nitrogen applied with minimizing crop damage and subsequent adverse yield impact, another major component is being able to keep the nitrogen available for the crop after it's applied and have it remain in the root zone during critical uptake growth stages.
Unique Challenges
A challenge with sidedress is that the timing of the application often coincides with weather conditions that are most conducive to leaching. Wet soil, standing water and visible deficiencies in some plants indicate nitrogen is likely leaching and on the move away from the root zone. Consider these facts specific to leaching during wet weather conditions:
Urea moves one foot per inch of rain in sandy and heavily tile-drained soils.
Water-saturated soils can lose as much as 5 percent of nitrate nitrogen per day when temperatures are warm.
Stabilization Benefits
N-Serve® and Instinct® nitrogen stabilizers maximize nitrogen so corn crops deliver the max in return by protecting against leaching and denitrification. They work underground, where up to 70 percent of nitrogen loss can occur.
"What N-Serve does is stops nitrogen from converting to a leachable form. So, we truly buy time with N-Serve — typically six to eight weeks of protection from rains and leaching."
— Brian Kruse, agronomist, Farmers Feed and Grain Company Inc., Iowa.
Application Tips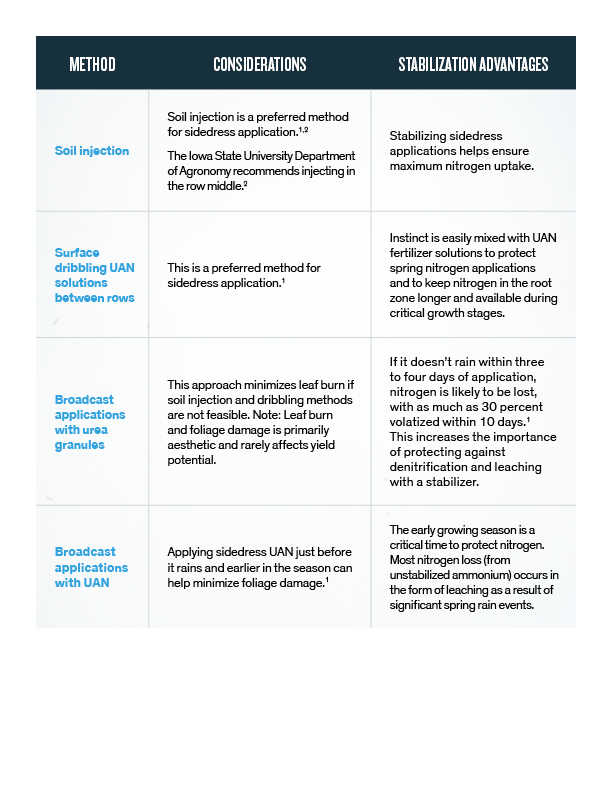 Find more information on the benefits of sidedressing with N-Serve® and Instinct® nitrogen stabilizers by visiting NitrogenMaximizers.com.
®™Trademarks of Dow AgroSciences, DuPont or Pioneer and their affiliated companies or respective owners. Instinct is not registered for sale or use in all states. Contact your state pesticide regulatory agency to determine if a product is registered for sale or use in your state. Federal law does not require any person who applies or supervises the use of Instinct to be certified in accordance with EPA regulations and state, territorial and tribal laws. Do not fall-apply anhydrous ammonia south of Highway 16 in the state of Illinois. Always read and follow label directions. ©2019 Dow AgroSciences LLC