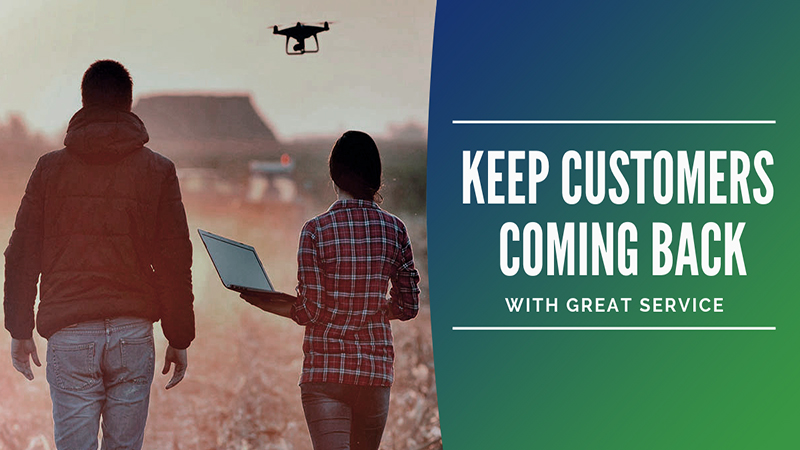 Customer experiences in agriculture have always been more relational than transactional, especially when compared to other industries. With the rise in technology, connectivity, and mobility, growers expect more from their trusted advisors than ever before; making every interaction an opportunity to give your customers a positive experience and shape a long-term relationship.
Companies with a successful customer service strategy realize the importance of serving customers where they are. Whether it's helping a grower load an agronomy prescription to a monitor during the peak of planting season, or making a timely decision on a fungicide application, understanding the pressure to fix the problem effectively and efficiently is key to customer satisfaction. Anyone in the agricultural industry knows that downtime in the field is time wasted, and time equals money.
If you are on the fence about whether your customer service strategy may be in the need of some supplemental updates, ask yourself these two questions:
        1. What constraints are keeping my team from delivering the best customer experience?
One of the largest constraints faced by ag retailers is fragmented communication resulting from disconnected teams. Oftentimes, companies have experts with a wide breadth of knowledge across varying topics, and that expertise is difficult to disperse across a large territory and high volume of customers. Identify your team's weaknesses so you can identify the technologies that could help you deliver a better customer experience and improve employee morale.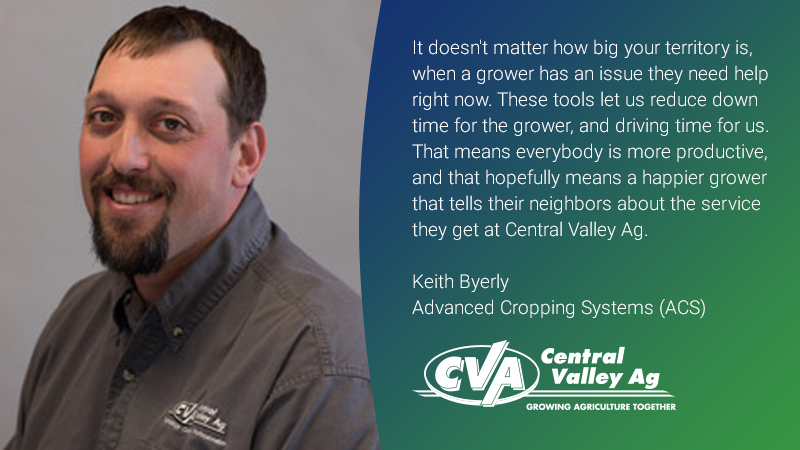 2. What new technologies can I use to build a more proactive, customer-centric experience?
Modern technology has changed the way food and fiber is produced today. We're living in the age of the digital farmer, so we need to adjust our support plans to cater to the digital experience they expect. When companies leverage new technologies, they will begin to see changes in how they engage with customers and prospects and will be able to make greater impacts on their bottom line.
It's hard to give customers a great experience when you can't quickly adapt to their needs, respond to their questions, or when you force them to wait longer than they anticipate or to repeat information they expect you to already know. To engage with your customers in real-time, your team members needs tools that empower them to deliver the kind of top-notch customer service that builds relationships and positively impacts your business.
Strategies to Innovate your Customer Service Experience
        1. Proactively Connect with Customers
Connecting with customers before they need your help is great way to begin building a stronger relationship. This added value could be in the form of time-sensitive text alerts or proactive video tips that nudge growers to be on the lookout for disease or pest issues. A remote support tool can help to simplify this workflow and add real value to customers, increasing both productivity and efficiency. Be proactive in getting them the information they need and the tools they need, before they are in a bind.
       2. Eliminate Communication Barriers
When the busy-season hits, do your customers know the best way to get ahold of your team? Today's agricultural landscape is comprised of various customer segments, resulting in multiple communication methods. It's important to allow customers to communicate in a way that they prefer, while staying organized and on top of customer requests. Finding a tool that brings various communication methods such as texting, calling, and live video into one simple platform will allow your team to better track support requests and keep your customers satisfied.
      3. Leverage Expertise
While most growers typically have their main agronomist or service technician on speed dial, oftentimes customer calls get lost in personal voicemail boxes leaving them stuck in the field and waiting for a call back. Employing a team-based approach to customer service can help your team share the workload, reduce customer downtime, and answer more customer calls. Adopting new technologies such as a mobile call center will allow your customers to instantly connect with an entire team of experts without waiting on hold or leaving another voicemail.
    4. Optimize Decisions
Using technology to gather important information is mutually beneficial to both you and your customers. Giving your leadership team more insight into day to day operations can be the first step in the right direction. Allowing managers to keep an eye on open tickets, closed issues, and customer reviews can provide information that optimizes support strategies and leads to a successful customer service plan.
While some retailers are dragging their feet at the opportunity to incorporate technology into their customer service strategy, industry leaders are welcoming it into their regimen.
Agriculture advisors are using AgriSync for mobile collaboration and customer support in agriculture to drive profitability, reduce customer downtime, and leverage expertise.
Advisors can easily see, solve, and track support issues and proactively educate their customers in a mobile-first, video-first manner on any device. With AgriSync, experts deliver better service at a fraction of the cost while helping growers maximize uptime and accelerate their adoption of essential innovations. AgriSync is the first proactive remote support app for modern agriculture and is always free for the customer. Learn more at www.agrisync.com
Looking for more strategies to improve your customer experience? Get this complimentary white paper with 5 questions to evaluate your customer experience and 6 strategies to make it better.