Foliar application of potassium later in the season can be a solution if a cold, wet spring prevented soil application. Research shows it increases yields and ROI even in good years.
When it comes to plant nutrition, nitrogen (N), phosphorous (P), and potassium (K) are the big three macronutrients. When it comes to having a good-looking plant, N and P play a big part. These two nutrients help to create a solid root structure, strong stems, and a healthy green color. But when it comes to having a good-looking harvest, that's where K plays an important role, especially in high-yielding varieties of corn and soybean.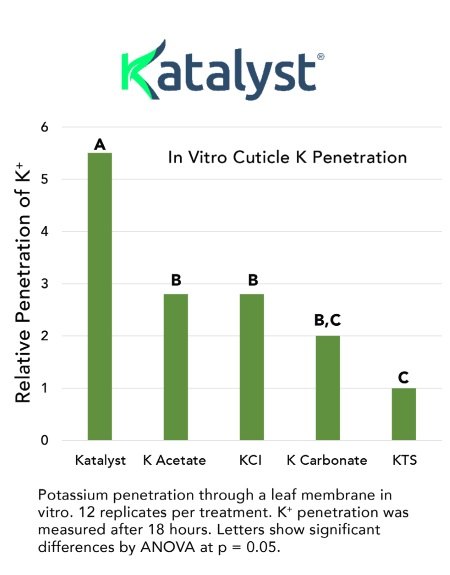 "Potassium is unique because it is critical to moving other compunds around in the plant, such as other nutrients, carbohydrates, proteins, and sugars," says Paul Reising, Director of Strategic Product Management at Actagro. "It is particularly important later in the season, because it is the nutrient that helps to fill the grain or pods. The plant can manufacture all the necessary ingredients, but unless they get into the part of the plant that gets sold, it doesn't matter."
Making sure the crop has enough K when it needs it is critical to grain and pod fill and ultimately, to yield.
Flexibility in Timing of Foliar K Application
Reising says there is a particular opportunity this year to reap the rewards of a late K application, especially if farmers weren't able to get an application out last fall. Because it's been a challenging, wet spring, it's been difficult in some areas to get dry fertilizer, particularly P and K, on the ground this spring also.
So what's Plan B for this year in either of these circumstances?
"First, if you have good K levels in your soil right now, you should start taking some tissue samples to see where you're at early in the season to see if you need to side dress," Reising says. "Or, if you're already putting out other materials such as fungicides or herbicides, you can tank-mix those with a liquid K product so you can keep feeding the crop. One of the benefits of K is the plant can store it for awhile until it is needed."
While there is a good amount of flexibility for when you can apply foliar K, the ideal time in soybeans is the R2 and R4 stages, Reising says, because it is the peak time of demand. For corn, application at tasseling or even a little later has demonstrated significant results.
"Often, the fungicide or herbicide schedule will drive when the K will be applied," Reising says. "A tasseling application is very common for fungicides. We have found that an application even later than that has given us a 10 bu/acre increase. That's great ROI for the farmer, and it demonstrates this crop really does need the late-season K."
Another good reason to apply K as a foliar later in the season is because soils get drier during the summer, especially in fields without irrigation. Soil with good clay content holds on tightly to K when it dries.
"You can't get blood out of the turnip," Reising says. "Adding more K to the soil when it's dry isn't a viable strategy. If you are making a pass across the field anyway, adding liquid K in the tank can have a real benefit to yield."