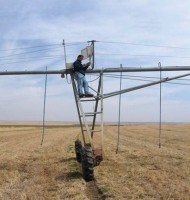 As the automation of both private and corporate farms is embraced, we see the use of sophisticated pivot irrigation systems and smart agriculture practices due to new technologies. The human imagination continues to create new ways to use this technology and push those technology providers for more powerful tools.
Ten to 15 years ago, even the most advanced automated pivot systems seldom used telemetry. If they did, the data throughput was extremely slow and seldom provided coverage to all the pivot irrigation sites. Some of the wireless technology also was expensive. Therefore, the telemetry technology was difficult to use effectively because only some sites could be remotely monitored or where farms were paying by the data byte or monthly usage fees to the technology provider.
With many new telemetry technologies available today, it is common to have 100% communication to all farm pivot locations and see data throughput from pivot sites of 19.2 kbps up to 115.2 kbps. High speed backbone telemetry is available with both serial and Ethernet connectivity with speeds ranging close to a megabit per second. Hybrid wireless systems can be utilized where needed to combine different wireless technologies over large geographic areas or remote locations. This can include both cellular, satellite and microwave products that can be deployed for remote areas, or if a higher speed backhaul of data is required.
New radio products keep shrinking in size, but are getting smarter and often feature both serial and Ethernet data interface options. Hybrid systems that use a mix of technologies can help save costs by using one technology that has monthly costs or fees; for example a user can piggy-back on to the same network with a license-free system that can collect and send all the data from the local pivot irrigation sites back to that location. Also, the use of GPS tracking devices is quite common to help with the location of the trailing end sprinkler on the pivot line, and this information can be displayed on a computer screen or a PDA phone.
Wireless For Pivots
The latest telemetry trend is "wireless instrumentation" which provides the ability to control and/or monitor analog and digital signals without the constraints of wire. These signals may be used to communicate to and from the pivot to the farm to check moisture and temperature sensors, chemical soil samples, wind speed for the best time to water, the actual pivot location and pump power usage that can be viewed anytime. The capability with Internet access allows the entire pivot system to be viewed via a smartphone, enabling the farm manager to remotely operate the pivot system, report/view status changes and see the remote sensors' status.
Until recently, field devices had to be hard-wired or use cellular or satellite communication hardware. The cost of cellular and satellite can begin to add up with monthly usage fees. Now, this can be done wirelessly and without any reoccurring fees by using unlicensed spread spectrum 900MHz radios. These radios can have IO (input/output) control functions built in or can integrate into a remote terminal unit (RTU) or some other type of control device.
Wireless devices with IO capability can send analog and discrete information back and forth from the radio to the host or SCADA software. The most common way of doing this is using Modbus protocol and assigning Modbus register values to the input and output required. These devices include pressure, temperature, flow sensors or valves that can be remotely turned on or off. Pump status and GPS coordinates can be carried back to the host computer and displayed with the SCADA software.
Today, several pivot irrigation companies offer some type of wireless communication service that might include cellular, satellite, unlicensed or licensed radios or a combination of two technologies, depending on the farm location. The use of wireless has created an influx of technology that has impacted the speed, size and variety of devices that can be embedded into the controllers, sensors and remote devices. Many of these devices have very small power requirements and can run on lithium batteries or small DC power sources. The new wireless products have become smarter and have the capability to work in several different field environments.
Undoubtedly, the use of wireless products will continue to grow. With commercial farms trying to conserve water resources, manage power use, have access to the health of the pivot system and handle the crops that grow at anytime and anywhere — they will need more wireless technology.
The bandwidth requirements will increase too, and IP devices will be added and become more common place. New embedded products will help save costs and be part of the system instead of being an afterthought. The use of different radio frequencies, field sensors, faster connection speeds and other wireless products will continue. Software and other services will help the farm and farmer have all the information they need at their fingertips.