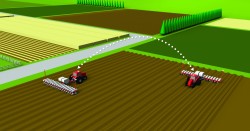 Last year was marked by vast innovation in the in-cab computing realm, with many top manufacturers trotting out advanced and updated capabilities for the snazzy, "teched-up" retailer. It appears that 2012 will go down as the year of the software upgrade. Take Topcon Precision Agri­culture (TPA), for example. In the past year, the company rolled out its System 350, an in-cab precision ag control system featuring the all-in-one, 12.4-inch multi-touchscreen X30 console. Mike Gomes, TPA director of marketing, says: "Topcon's System 350 sets the industry standard for performance in virtually every conceivable area of precision farming operations."
Helping the company maintain that so-called "industry standard" is its latest software update, Version v3.07.24. In addition to providing the X30's standard high accuracy autosteering feature, detailed job summary reports for data tracking and multi-guideline settings (straight, adaptive curve and center pivot), the update bestows the following advanced capabilities upon users:
Swather vehicle support with the Topcon AES-25 electric steering system, GPS drift compensation.
Boundary creation from a shapefile.
ISO file server.
ISO XML taskdata data exchange.
Just as Topcon updated its X30 software package, so did Leica Geosys­tems. Back in March, the company released additional features for its mojoMINI and mojo3D guidance systems to further enhance usability and compatibility.
The touchscreen of the mojoMINI has undergone several modifications. It offers now two lightbar modes: The traditional cross track only lightbar; and the Leica smart lightbar. Growers are able to choose the use of WAAS and EGNOS satellite constellations or to deactivate them, if desired. Also, the added support for kml files gives users of the mojoMINI the ability to export data of their most recent work for viewing in Google Earth or import that data into a mojo3D.
The company has also linked steering between the mojo3D and the Leica Twist, which allows the steering of all Leica SteerDirect kits which are supported by the Leica mojoXact. To enable these extra steering options, a mojo3D SteerDirect kit is required.
"We are pleased to introduce more open formats to further ensure the cross compatibility of our products," says Peter Roberts, Leica's global R&D manager. "The positive market response we receive because of the fact that we support open formats, like open correction formats, open data formats and open steering protocols extensively, reflects the need for flexible and versatile solutions."
Leica is also planning additional releases for mid-year, including an online service to monitor farm equipment as well as a new base station.
Synchronicity
Just as Leica is busy streamlining its in-cab computing options, an innovation from Trimble is making it easier for growers to synchronize different vehicles in the field. Vehicle Sync provides vehicle-to-vehicle communication for the Trimble FmX integrated display. Vehicle Sync is particularly valuable during planting season, says the company, as it allows operators in the same field to transfer guidance lines and coverage maps wirelessly between their FmX displays. This functionality helps to reduce overlap and speed up planting jobs.
"The introduction of Vehicle Sync data communication in the FmX integrated display will save operators time while in the field and provide efficiency during the busy planting season," says Erik Arvesen, vice president for Trimble's Agriculture division.
Besides allowing operators to share guidance lines between multiple vehicles, Vehicle Sync also goes hand-in-hand with Trimble's latest initiative, Connected Farm. This Trimble offering is an integrated operations management solution that combines hardware and software to increase operations management efficiency. End users that own a DCM 300 Modem in the cab with Vehicle Sync technology can add-on Connected Farm for a relatively low price and "move up to the next level, which is automating that data transmission between the farm field and farm office," says Micah Eidem, Trimble market manager.
John Deere is also touting improved in-cab displays with the company's GreenStar3 (GS3) 2630 Display. It features upgraded capabilities for 2012, led by the recently released Remote Display Access and Machine Sync updates.
Remote Display Access functionality allows for real-time remote display access in the cab. The grower can designate who will have access to view any GS3 2630 Displays in the field to assist in setup, adjustments and troubleshooting, or if necessary, from any remote location using JDLink. This feature is designed to save valuable time and can mitigate some service calls, even from miles away.
"Remote Display Access is a proficient tool and is a direct result of listening to what our customers' needs are and making it happen," says David Mulder, product manager for John Deere Ag Management Solutions (AMS). "Besides saving a drive out to the field, a grower or a John Deere dealer is able to remotely assist an operator immediately with setup or troubleshooting, saving time and fuel during the entire growing season."
As for the Machine Sync option, John Deere Representative Holly A. Brokaw says that "machine-to-machine communication will automate the most challenging harvest functions, allow unloading on-the-go and deliver ease-of-use for operators by enabling your combine and grain cart tractor to communicate speed, GPS and unloading-on-the-go logistics that are perfectly harmonized."
Just as John Deere introduced its Machine Sync option in response to grower and retailer feedback, TeeJet Tech­nologies also added customer-centric capabilities to its Ma­trix Pro display, starting with new screen display settings and the FieldWare Link PC app.
"The additional screen display setting allows for enhanced viewing in bright conditions and provides the user with another display option," says Tim Stuenkel, TeeJet global marketing communications manager. "The FieldWare Link app allows the user to more easily store, manage and retrieve field maps and job data. Additionally, boundaries and guidelines can be saved and reused for repeat applications on the same field saving the operator time and effort.
"The need to be able to save and reuse guidelines/field boundaries and better manage map data was a common request from both growers and retailers," he continues. "We are excited to offer this additional functionality and have made it available to all Matrix owners to download for free. Thus far, feedback has been very positive and the enhancements offered by FieldWare Link, in particular, have been well received by users."
Cross-Platform Capabilities
Meanwhile, Ag Leader Technologies is currently highlighting its Versa display system, released in November of last year, which includes year-round precision tools, such as guidance, autosteering control, planter control, application control, yield monitoring and mapping, in a large, full color 8.4-inch touchscreen package.
Ag Leader is marketing the Versa as either an economical stand-alone in-cab system or as a second display to switch between multiple vehicles.
One of the main benefits in implementing the Versa system is the cross-platform capabilities it offers. "Whether you are a loyalist with a complete matching set of same-colored field equipment or you've got a multi-colored equipment shed, the Versa display will work with your equipment," says Lori Costello, marketing communications manager for Ag Leader. "In fact, you can even switch it in between equipment of different brands — something that is not always possible with factory-installed precision farming equipment."
Finally, Raven Industries is excited about the roll out of Onsite, an AgIntegrated product that connects with Raven's Slingshot Application Interface(API). OnSite is a cloud-based mobile and desktop app that assists with file management and communications to and from the field by socially connecting people. By tapping into the Slingshot API, the OnSite software is able to communicate directly with Raven field computers to efficiently transfer data and locate equipment in the field. OnSite can also connect with a variety of different displays (not just the Slingshot API).
"AgIntegrated's implementation of OnSite is a great example of the Sling­shot API at work," says Paul Welbig, director of Slingshot Operations for Raven. "Slingshot provides the wireless connection to the hardware in the field and provides a great connection for AgIntegrated to provide a seamless solution for their customers."
Another driver of the OnSite system, as well as all of the other products highlighted in this piece, is the increase in adoption of mobile technologies and smart phones within agriculture, a trend that is likely to only grow in the coming years.
"Mobile technologies are enabling the consumer to become the most important asset once again," says Mike Santostefano, director of marketing and business development for AgIntegrated. "These consumers, including precision ag specialists, salespeople, agronomists, consultants, operators and growers, are the people responsible for adopting and embracing precision agriculture. As seen in other industries, these connected consumers will ultimately drive the need for lower cost, easier to use, integrated systems that make their day more efficient."