It's been about a year since the first agriculture carbon sequestration program was introduced, and since then there has been a frenzy of new certification and trading programs for producers and consultants to consider.
Agriculture is responsible for about a quarter of global greenhouse gas emissions, and land-use change contributes about a quarter of those agricultural emissions. As a result, sustainability programs and business models are inextricably linked to carbon and spurring an evolution of production systems.
We're bringing clarity to the space by assembling a panel of experts to discuss how carbon and regenerative production practices are integrated into business models of agriculture companies through each step in the value chain, percolating up from consumers, investors, grocers, food processors, grain aggregators, traders, growers, and input manufacturers.
Get a detailed look at what's driving real change in agriculture production from industry leaders in this panel discussion: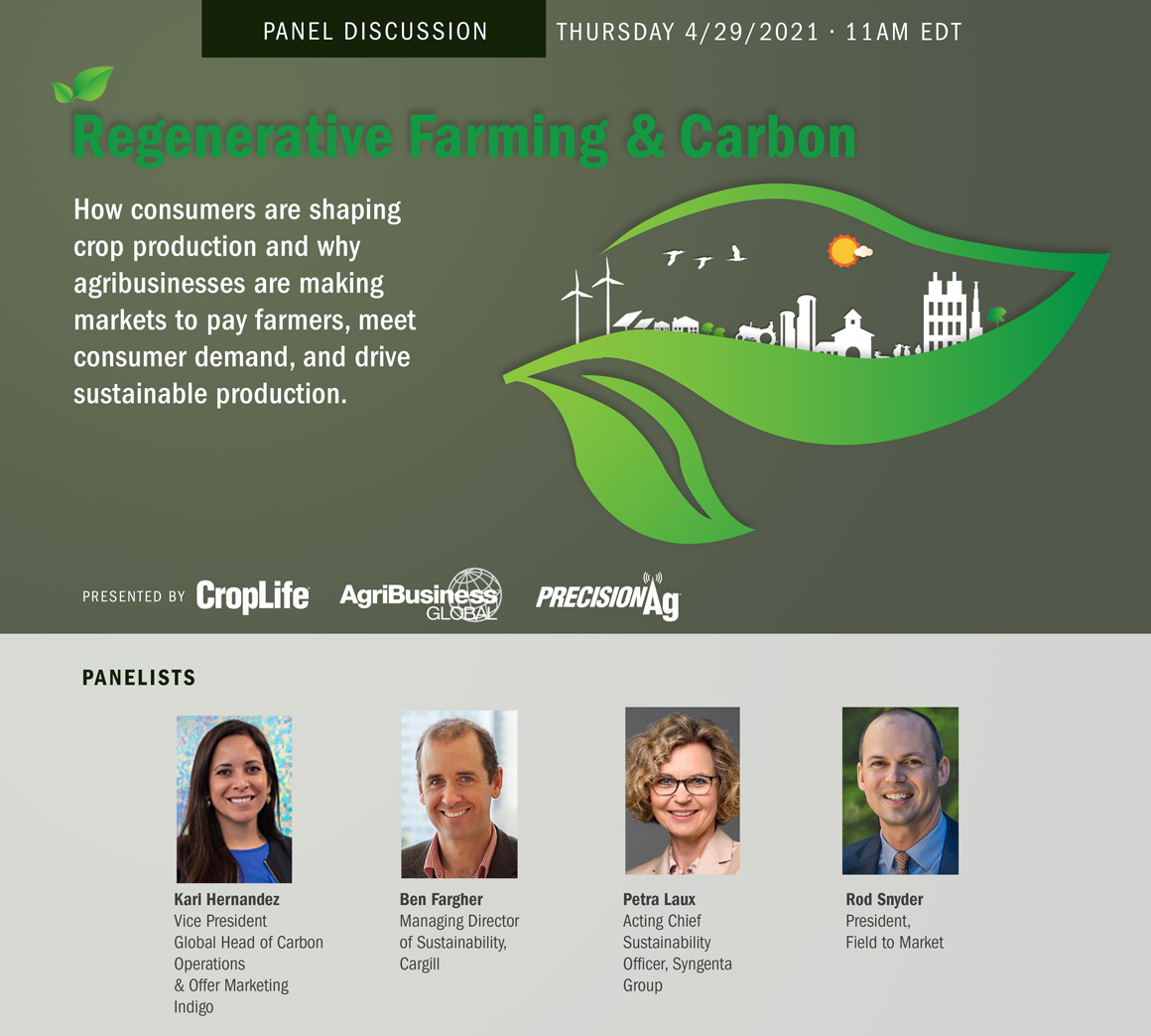 Regenerative Farming & Carbon: How consumers are shaping production systems and why agribusinesses are making markets to pay farmers, meet consumer demand, and drive sustainable production.
Learn how carbon farming and credit markets work to generate ROI for farmers while offsetting emissions for purpose-driven companies.
How documentation and validation work through regenerative parameters. What are they and how does the documentation manifest in the downstream channel?
Why public scrutiny on production systems is a good thing and how agriculture companies are responding to consumer demand and providing assurances.
How eco-labels can be more collaborative and productive toward their end goals of articulating benefits to people, planet, and profit.
How agriculture companies are preparing farmers with biological products and other tools they need, such as data management, to prepare them for rapid change in their production practices.
Register today to learn how industry players are managing and monetizing carbon, how it affects agriculture companies at all levels, and why it might be the tip of the spear that measures, validates, and markets regenerative practices.
0
1
5
Panel Discussion: How Regenerative Agriculture and Carbon Is Changing Production Systems