This summer was the third largest algal bloom outbreak in the history of Lake Erie. It was so bad, writes Bill Hormann for ABC13 Action News in Toledo, OH, that algae backed up into the Maumee River in downtown Toledo.
The city and Lucas County are spending hundreds of millions of dollars fixing sewer and storm water runoff that dumps into the lake.
But now there's hard evidence farms need to do more.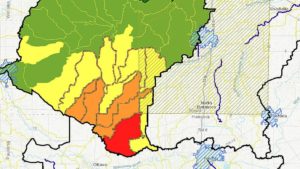 Monday, maps of the lower Maumee watershed pinpointed where nutrient runoff is concentrated — it's primarily in farms south and west of Toledo.
Those areas indicate higher amounts of polluting phosphorous coming from those farmland areas.
Head on over to 13abc.com for the full story.