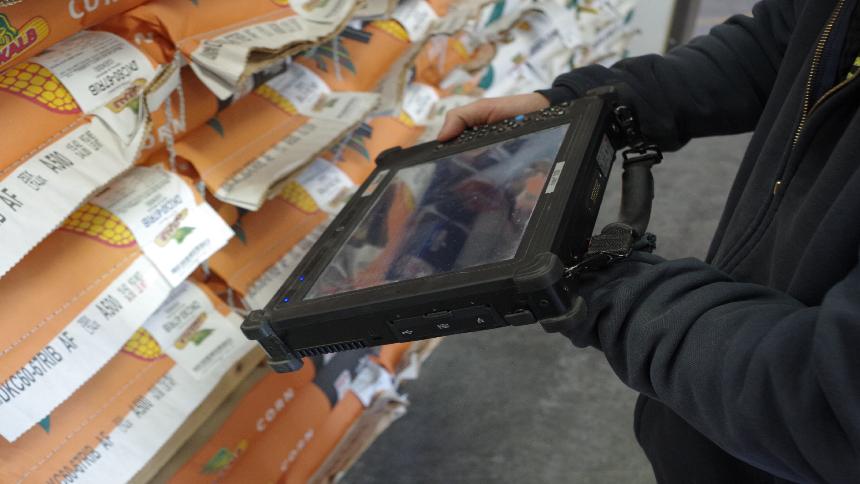 According to legend (or Wikipedia), the first step towards modern bar codes came back in 1948, when Bernard Silver, a graduate student, overheard a conversation in the halls of Philadelphia's Drexel Institute of Technology. The president of a local food chain was pleading with one of the deans to undertake research on capturing product information automatically at checkout. The dean turned down the request, but Silver mentioned the conversation to his friend Norman Joseph Woodland, a twenty-seven-year-old graduate student and teacher at Drexel. The problem fascinated Woodland, who would eventually be credited as the father of modern barcoding systems.
Fast forward 25 years to the date April 3, 1973, and the research that Woodland & Silver founded and companies like IBM and RCA had since taken up (Silver passed away in 1963) came to fruition with the official adoption of the Universal Product Code, transforming bar codes from a curiosity into a business necessity.
For whatever reason, while barcodes would become standard across virtually every industry that sells products at retail over the last 40-plus years, agricultural input retailers embraced the "if it ain't broke, don't fix it" mentality, clinging to the old school way of doing things: hard copy paper load out tickets and having the office secretary do manual accounting data input, etc.
CropLife 100's No. 46-ranked retailer Ceres Solutions (Crawfordsville, IN) is in the midst of an AgGateway-backed program that could go a long way in changing that mindset in the industry.
Now in its second year of working hand-in-glove with AgGateway's Auto Identification and Data Capture (AIDC) Working Group, a collection of like-minded industry stakeholders focused on standardizing, promoting and implementing barcoding in the agriculture industry, Ceres has its four large seed hubs (New Lebanon, Perrysville, Templeton, and Rensselaer, IN) using bar code scanners within AgVantage Software's PC Seed Program.
"We piloted the program last spring at our Templeton location and now all four of our seed hubs are on the system," said Randy Fry, Data Process and IS Manager, in a recent telephone conversation. "We're still tweaking it here and there and getting our data right, but we're pretty much taking the data all the way from sale-to-invoice with this system."
According to Fry, the process begins with a grower and agronomist placing an order for seed. Ceres' admins then go to Monsanto or WinField – the two companies they work with on seed and seed treatment chemistries – and place their order. When the manufactures ship seed to a Ceres location, an electronic ship document is generated and sent through to Ceres' accounting software. Once the product touches down at one of Ceres' four seed hub facilities, the electronic ship notice is compared to the accompanying bill of lading; if everything is correct, the shipment is added into Ceres' inventory automatically.
"When our growers are ready for seed to be delivered, we can access their order through our order system, decide on what products to deliver, if it is treated soybeans we can see the treatment that was ordered, treat the soybeans, scan the barcodes of the product to verify product and capture lot numbers, verify and adjust units. As the load out ticket is made and saved, it goes into our billing system and then the accounting folks can bill the customer.
"Would I say that right now, as we stand, that we have it all 100% figured out yet? No. But we're getting there."
Fry says one of the main benefits of the system is the real-time inventory dashboard generated by the data.
"Now our hub managers working to fill grower orders, they can always know our exact position in seed – how much is available throughout the entire company, or by location. Or what's on order already, what's with the grower and what's in the warehouse? We can see our position at all times and react accordingly as a sales and operation team."
Overall increase in data accuracy is another added benefit, according to Fry.
"In the past with our system we were tracking things on different Excel spreadsheets and now all of the data resides in one place, which helps us track all of the rebates that seed and crop protection manufacturers offer. As we continue to get seed right and optimize this system, I think implementing a similar system across the remaining crop protection products will be very simple."
And of course, an increase in both grower and retail efficiency makes it that much easier of a sell for many.
"It's all interconnected, I see in the future that a farmer that's doing variable-rate and multi-hybrid planting – he can scan the product into his farm management software when it gets to the farm and that grower is able to track it all the way from the field it was grown in for seed to the field it was planted in – to the retailer that has to be accountable to EPA in product reporting and audits, all while moving several hundred thousand units of seed around to several hundred growers in a timely fashion."
As of press time, Fry says AgGateway's AIDC Working Group has joined with CRISTAL, a similar working group in Europe, to merge both group's standards guidelines into a single global document utilizing GS1's system of standards. This joint collaboration aims to ensure retailers have one set of standards to follow across their entire business.
"And the last step is to get the retail industry at large informed that these tools exist and work today – and we also need to get the manufacturers on board. Just between our two seed and CPP partners Monsanto and WinField , there are over 3,000 possible Stock Keeping Units (SKU) we have available for sale in our territory, that's where the Big Data part in all of this will come in."
Getting the rest of ag retail on board shouldn't be that difficult of a task, as Fry says J.R. Simplot also does a lot of barcoding and "it's not really as difficult as people think it will be."
"Setting up the system and getting the basic data entered correctly is the hardest part," he says. "We've really learned a whole lot in these last couple years."
Monsanto's Marcia Rhodus, AIDC chairman and SeedTrak Business Manager, is one of the people that Fry and Ceres worked closely with on seed barcoding implementation. AgGateway has looked at bar coding off and on over the years but has not witnessed a lot of traction around adoption. Now that an ag retail organization like Ceres is involved in the process, the AgGateway initiative feels that the time is right to see expansion, according to Rhodus.
"There are a lot of benefits to a retailer being able to pick up a bar code scanner to manage inventory," said Rhodus during a phone interview from the Monsanto campus in St. Louis, MO. "Knowing when their inventory is out of position is probably first and foremost. If they can't track inventory and give a real-time position at any time, they are basically flying blind."
Rhodus stated "Implementation of an inventory control system where a bar code scanner is integrated with the business software provides increased efficiencies along with accurate information by eliminating handwritten tickets.
The longtime Monsanto employee recalled one cooperative relating an incident where a worker, who had to manage several handwritten tickets on a day-to-day basis, accidentally put one into his pocket. The ticket never left the gentleman's pocket and at the end of the day it accompanied the worker home, where it was subsequently put through the laundry and lost forever.
"These are exactly the type of incidents we're looking to prevent."
Rhodus says the biggest hurdle AIDC's initiative faces at this moment in time is getting manufacturers to implement barcoding on their product packaging.
"If a retailer cannot pick up a scanner and use it on the majority of the products they sell, it forces them to utilize two different processes to manage their inventory, and chances are they will decide to not consider implementation for that reason," she says. "While there are a number of large manufacturers that are members of AgGateway, not all of them are printing a bar code on their products that can be used at the retail level. I think we need the ag retail chain to speak up and tell their manufacturers 'I want these efficiencies at my company and I need your help."
The next step, according to Rhodus, is bringing the grower into the loop. "We envision a time when a grower purchases a product, pulls out his smartphone in the field and uses it to scan a barcode, sending the information directly into their equipment's data chip, making it available for tracking field inputs and downstream reporting. Now you have closed the loop."